Donna's Ranch Brothel – Battle Mountain
This location of Donna's Ranch is the only brothel located in the small town of Battle Mountain, Nevada, which also straddles the I-80 going towards Reno. Yet again the brothel was on the other side of the railroad tracks, tucked away in a far corner of the small town that made it obvious you were visiting the brothel if you were seen on this side of town. Although still not a great looking brothel, I thought it was far better than the location in Wells. This location was newer, larger, and had less of the trailers-patched-together feeling that I got from the Wells location.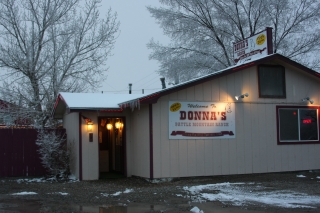 The bartender was very friendly and welcoming, and the girl that gave me the tour was also very nice. The brothel has 3 VIP suites, which included one jacuzzi suite and one with an attached massage room. There's a $100 minimum, but later found out that there really isn't a house rule on minimums like other brothels. After the tour was over she sat with me at the bar to chat and talked about clients and her background. She said most of the clients are locals, truckers, and miners who come in after getting off of work. She said some of the locals are a little difficult, but liked the truckers and miners more. Normally a stripper in Northern California, the girl said she comes out to work to take a break from the big city and at this time, make some extra money before Christmas. Normally there are 10 or more girls, but at this time right before the holidays, there were three available and the other two were busy… so I didn't have a line-up.
If I had a choice between the two locations of Donna's, I'd have to pick this one over the location in Wells. Of course it's small and quaint, but the nice staff and girl that I spoke with were better than some of the other smaller brothels I visited.
Tags: battle mountain, donna's