Donna's Ranch Brothel – Wells
Donna's Ranch is the only other brothel located in Wells besides Bella's, but also has a location in Battle Mountain approximately 120 miles to the West on I-80. This brothel is yet another one that claims to be the oldest brothel in operation in Nevada like the one in Ely, but this one boasts operation since the late 1800's. I don't know who really wins the oldest brothel contest, Donna's or the Big Four Ranch. I guess they will have to duke that one out with the historians.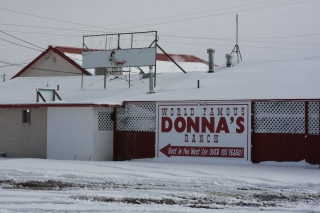 As I entered the brothel I got a real uncomfortable vibe from the bartender and got a slight eye roll when asking for the line up. I think I had to repeat myself and then some other male patrons in the bar piped up wanting to see the girls as well instead of just drinking their beers alone. I don't know if it was the fact that they only had two girls working that evening or what exactly was going on, but at last the girls came out and introduced themselves. The tour consisted of a little history of the brothel, mostly boasting about the old owner Jack Dempsey and showing the small room that he used to stay in. I'm guessing all of the girls of these brothels get a little training on the history of the brothel and what to tell potential clients on the tour so they have something interesting to talk about along the way back to their rooms. The girl took me back to her room, where she stays and entertains, to discuss any private details and pricing. This was one girl who didn't negotiate at all, and really didn't want to hear what I had to say or what budget I was wanting to spend. It was her semi-high half hour rate or nothing. When I tried speaking to work things out she cut me off and said, "Well thanks for coming by Donna's!" I guess I will just see myself out, then!
Of course you can't judge any brothel by one individual girl's demeanor, but I really didn't care for Donna's after that. I did make note that they had a jacuzzi VIP room, but not much else. If I had the choice between the two and was stuck in Wells, I'd pick Bella's first.