Wild West Saloon and Brothel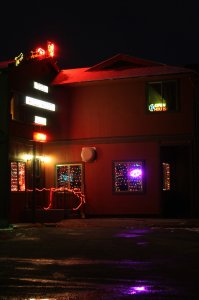 The Wild West Saloon is located immediately next door to the Villa Joy and in a larger two story building with 16 rooms for entertaining. There were quite a few people at the bar, but most of the ladies were busy attending to clients when I walked in. Four girls were only available that evening due to the approaching holidays, and since they were busy I wasn't able to get a tour. I was informed that they had a couple of suites and a jacuzzi room available.
Unfortunately, I not a whole lot to report on the Wild West Saloon except it was larger and seemed a little more lively since more patrons were drinking in the bar. I personally liked the look and feel of the Villa Joy better, but since both places are next door to one another it's easy to choose by visiting them both if you happen to be in Winnemucca.
Tags: villa joy, wild west, winnemucca