#1 Geisha Massage and Brothel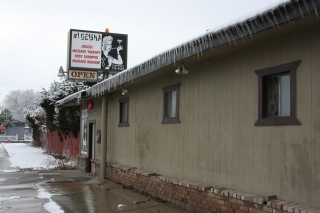 This brothel was also hard to find information on before my trip, so I was surprised to see the "Open" sign on as I drove past Inez's D&D.
#1 Geisha
is a street away from Mona's and Sue's but easy to find. I also didn't know that this brothel was going through some legal issues due to a raid on some massage parlors in Seattle and California that were owned by the same people in Elko. Seems like a terrible idea to risk your legal business in Nevada over an illegal one in Seattle or California. I don't know how much longer this brothel and massage parlor will be open since most of their cash has been seized and the county is going to revoke their brothel operators license due to the federal charges stemming from the Seattle case. You can read more about the
brothel's involvement here
. I don't blame the town or county for wanting to rid the brothel business of unsavory characters.
All the legal issues aside, I went inside and got the feeling that #1 Geisha was advertised more as an Asian massage parlor, also specializing in only Asian girls like Inez's. The place smelled of incense and bleach, and the amounts were set by the house and were based on time. This brothel and Inez's were the only ones on the whole trip that had house set rates and negotiating was cut out. At least at this brothel the girl was upfront about pricing instead of being so vague and strange like at Inez's D&D. She explained that the minimum amount was $100, $200 for a half hour, $300 for a whole hour and $500 for 2 hours. Sounds like a pretty good deal since usually the girls only get to keep half at most brothels. I doubt this house split their money any differently. Either way, #1 Geisha's days are numbered unless someone else steps in to get a new brothel license and takes over the building.