Mona's Ranch Brothel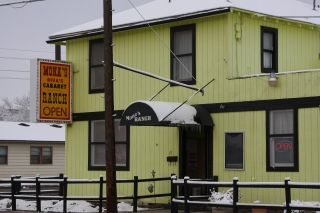 Mona's Ranch
is the first brothel on your left when you drive down the street towards the brothels. Next door to Sue's, Mona's is a larger house that has a full bar, massage rooms, and other VIP rooms available. Even though I couldn't sit in the bar area, I liked the old wooden bar style and thought it was more appealing than some of the small funky bars I had seen in other brothels across the state. The parlor area is a small area right off of the bar with comfortable couches. Since there was only one girl that afternoon I didn't get a line-up (holiday season again made the selection of girls low in Elko).
While I was waiting in the parlor area I got to listen on a conversation between the madam and a girl wanting to be hired at the brothel. She was explaining which tests she had to get done, where to go, and how much each part would cost. Each test sure adds up to quite a bit before you can even start working. She had to get these tests and be cleared before she could obtain her state health card and work card. I'm not sure of the exact amount of money that would be needed before a girl can work but I am sure it adds up to a few hundred dollars before day one.
Though I didn't spend too much time at Mona's and my timing really wasn't great since it was an afternoon visit, it would be the one place I would stop into if I was in Elko again at the brothels. Since they had the nicest staff and girl in the city by far I think it deserves another visit in the future.