Wild Horse Adult Resort and Spa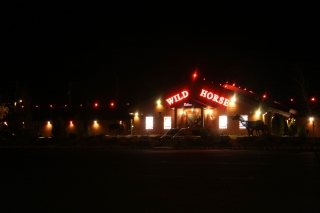 I walked across the parking lot past some roaming cottontail rabbits after visiting the Mustang Ranch (hey, this isn't the Bunny Ranch!) towards the grand front door of the
Wild Horse Adult Resort
. Inside I was a little surprised at the change in decor from the previous brothel. The area you first walk into is a dark green bar that resembles a hunting lodge with dark wood and stuffed animals hanging on the wall. Dark leather couches were scattered around the huge room and a fire place gave the room a nice glow. I think there was also a stage in there with a pole towards the other end of the room. There were quite a few girls scattered around the room and at the bar, some on laptops and some snuggled up in blankets chatting with each other. I didn't get an official lineup, but the nice bartender asked me if I would like a tour and I could pick who I wanted to show me around. I have to say the quality of girls was higher than any of the previously visited brothels and the remaining stops on the tour. Each one said their name from their seat around the room and I went to the back for a tour after choosing.
They really seemed to make a difference from this front lounge and bar area from the back brothel area. There's a door leading into a huge, bright room with high ceilings that has a ski lodge feeling with its wood beams and more stuffed animals (they must have a taxidermist friend.) This was the official lineup area and gift shop, she explained. I think around this time I realized maybe I got the wrong girl to give the tour. She seemed annoyed and wondered why I had pulled her away from her buddies in the lounge to walk around. I was told that there were 28 rooms for the girls to live in and 4 VIP suites that include jacuzzis and are decorated in different themes (though I was not shown them.) I was shown a smaller room that had a vibrating saddle that I had seen in porn videos, but I think I was only shown this room because it was towards the front of the brothel and she wouldn't have had to walk much further.
This brothel also had negotiation rooms similar to the Mustang Ranch. I went in one to have a quick conversation and she told me the house minimum was $200 (I somehow don't believe that the same owners would have two different minimums, though.)  I said thanks for the tour and the pricing information, but respectfully declined. She just seemed generally uninterested and I was somewhat off-put by her attitude for me to want to do anything. I still liked this brothel and the quality of the house, I just wish I had picked a more personable girl. Both of these brothels definitely were my two favorite on the tour and the easy walk across the lot from one to the other makes it that much better.
Tags: Mustang Ranch, storey county, wild horse