The World Famous Mustang Ranch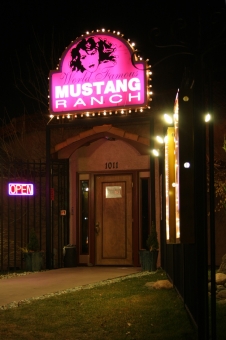 I have been looking forward to visiting the
Mustang Ranch brothel
for years. I don't recall when exactly I had read the book "Brothel: Mustang Ranch and Its Women" by Alexa Albert, but I was really intrigued with it all. When I read it I hadn't known the whole story to the final days of the Ranch with the previous owners, the federal racketeering cases, and the involvement of Joe Conforte. I also didn't know that the brothel was reopening and had moved since the book had been written. I just wanted to visit the place and see what it was really like for myself. Finally that day had come on my tour! I originally had the address in my notes as the original location, about five miles north and on the opposite side of the freeway. After some research I had found out it was moved to the present location along with the owner's other project, the Wild Horse Spa and Brothel.
I decided to go into the Mustang first. You are buzzed in through the front door and walk into a huge area that has a bar, tables, and is decorated like a garden with water fountains, trellises, and flowering vines. The ceiling is painted like the sky, which is a little cheesy, but was a nice change to the dingy entrances I had been in so far on the tour. Five to six girls were sitting around chatting in this area at the various tables and gave a friendly hello as I walked in. I sat at the bar for a minute and got the feeling that they don't do line-ups here so much as you find the lady of your choice in this lounge area (there didn't really seem to be an "area" for line-ups, either). At this time a girl pretty girl walked up, introduced herself and offered to give a tour… and what a grand tour it was.
She explained how all of the wings that branched off from the middle bar area were a part of the original Mustang Ranch owned by Joe Conforte and was air lifted to this location by the present owners. She said that they didn't have some sort of permit or permission to do this move, and was subsequently fined $1 million by the state or county (although I can't seem to verify this statement.)  I asked her, "Do they train you to know all of this information for the tours?" She explained that when you first come to the brothel they have a house book that explains rules, regulations, and history to tell clients on the tours. Interesting!
There are four VIP suites and four wings, but I'm not sure how many regular rooms they had for the girls.  With each hallway there is an iron gate restricting access with security codes, surveillance cameras, and sensors. One of the most original suites I saw was what she called the "Pretty Princess Suite". Painted in pastel purple and other girly colors, she explained it was for guys with fetishes and couples. Another suite was dubbed the Safari room with a huge tub that had the faucet pour from the ceiling, sauna, and a large bed. She explained some clients get this room since it's comfortable for an overnight stay with the lady of their choice. The other two suites were Asian themed and Hawaiian themed. I forget which room had the largest bed, but it was two California Kings pushed together. She said the largest party she had seen was about 15 guys who each had a girl on every area of the large bed… wow. You could tell the owners had spent a fortune on the nice furniture in every suite. No expense was spared in making this place look nice. There was also a Kama Sutra chair and a huge bondage bean bag in these rooms, and I think every suite also had a stage and stripper pole on the side. I didn't see the bondage/dominatrix room, but apparently it is attached to a room that is a tribute to Joe and Sally Conforte (and isn't generally open to the public on the tour.)
Similar to the brothels in Winnemucca, the Mustang Ranch has several negotiation rooms. In these rooms there are a few chairs, a side table with hand sanitizer, rubber gloves, wipes, and a lamp. Apparently this is also the room where any inspection of the genitals happens before any payment is made. The girl can discuss and agree on a price (there's a $100 house minimum), but before she takes him to the cashier to pay and start time she must make sure the client passes inspection.
I really enjoyed the tour of this brothel and wish I could have spent more time here. I got a kick out of a little ghost story from my tour guide girl about how she had to move wings because of something "not feeling right" in her old room (other girls have had to move out of that hall as well). Another story of a client dying of a heart attack before she ever worked there, but ironically was not on the same hall that she felt was "haunted". I had another haunting story told later to me from a girl at the Sagebrush Brothel. Maybe a cable channel should pick up a reality series about haunted brothels and the girls' stories.
Out of all of the brothels, I think the Mustang Ranch would be the only one I would choose to work at if I ever decided to pursue the legal brothel route. Though the Wild Horse is also very nice, I liked the vibe from this brothel better.
Tags: Mustang Ranch, storey county, wild horse