Wednesday, April 27th, 2011
Carlin is the next stop along the Interstate-80 trail of small towns lining the highway that each seem to have a brothel or two located in or around them. I was very unsure when embarking on this trip that both brothels, Sharon's Bar & Brothel and The Dovetail Ranch, were open. At the time I was looking for information, The Dovetail had no website and Sharon's website doesn't seem to be updated that often (also the directions on their site were so confusing I just hoped that Google maps wouldn't let me down in the middle of the desert.) Carlin is a small 2,000 person town 23 miles east of Elko, and both brothels are located on a highway-to-nowhere on the eastern outer edge of town. I was glad to see that my venture paid off as both brothels are open for business, though I ran into the same common problem on the trip: my Christmas season timing made the selection of girls to be little to none.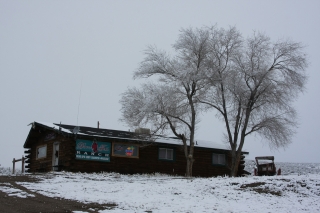 At least in Carlin I wasn't met with the same strange "you can't wait in the bar area" regulations like in Elko, though both are in the same county. Then again both places were small enough I don't think they could have fit in a parlor. I am still perplexed as to how these two places seem to make money since you cannot see them from the freeway, and the small rolling hills make it hard for you to see them even when you are on the small two-laned highway out of town.