Inez's Dancing and Diddling Brothel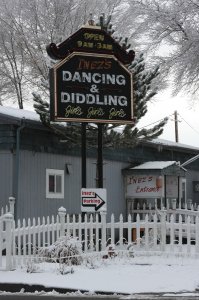 I first stopped Inez's D&D in Elko, mostly since I thought it had been closed and hard to find out any information on it's state of operating (they have since launched a website). They specialize in only having Asian girls and boast this as a selling point to clients. I walked in and a man tending the bar/house gave me the most unsettling feeling of being unwelcome and I really wanted to turn around and walk out. This is where I found out about the odd rules about females being allowed into the bar area and since there was no parlor, I had to go to the back. I said, "Okay that's fine," but then was given resistance when I asked to speak to a girl and be taken into the back to abide by their rules. What the heck is going on here? I am at a brothel, right?
After asking to speak to a girl at least three times, finally a girl (I think three girls were there) walked out and basically asked what did I want? Wait, I thought I couldn't talk in the bar area?  I said I'd be happy to get a tour of the place and talk more, and then I found out there really is no negotiating. All of the prices are set by time and there's no negotiating to be done in the back. I still got more run around, and never really found out any pricing for the time with the girls. By this point I wanted to just go, and I did exactly that.
I couldn't tell you if they had any VIP rooms or areas since no one would take me into the back. I only was able to see the small bar area with some mini stages that the girls danced on during the night like a mini strip club.