Bella's Hacienda Ranch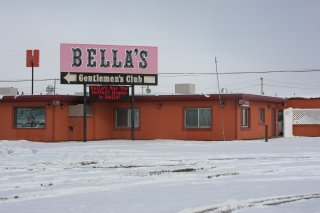 I stopped into Bella's Ranch first since it was the nicer looking of the two brothels, and I also couldn't forget Amanda Brooks' and Mariko Passion's stories about working there a few years ago. I walked in and found the bar lively with truckers, girls drinking, and guys who generally wanted to get out of the cold weather and into a warm bar. This was one place that I noticed the girls were actually socializing with the clients instead of keeping their distance like at some of the other houses I visited along the way. The bartendress was very friendly, and like I mentioned earlier, very helpful on the phone. She immediately had a line-up formed of four girls (normally more but the approaching holidays had some girls already leaving town to go home), and I got a tour from one of the girls. The building is similar to most of the brothels in Nevada: manufactured home or trailers pieced together which creates a somewhat confusing layout of the place. The interior was a little dated but not nearly as dated as Donna's next door. They feature a jacuzzi room that was large and clean, one of the more (perhaps the most) professional looking fetish/bondage rooms I saw on the entire tour, and massage room. Besides the special VIP rooms mentioned, the girls have their own rooms in which they live and have fun in.
At this brothel you discuss private matters in their room after the tour, and I noticed they are more centered on selling time more than selling each act or fetish. Of course every girl was different and the two girls I talked to were very nice, accommodating, and willing to work things out.
Tags: amanda brooks, bella's, mariko passion